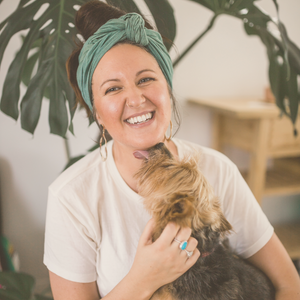 Hi, I'm Tanya, the woman, mother, maker, and creative behind Botanist Aromatherapy.  I work from my light-filled home studio on the Sunshine Coast, intuitively blending essential oil tinctures for emotional, spiritual, and physical support.
I'm an animal lover, nature lover, researcher and life-long learner.  My passion for supporting women led me to train as a Holistic Health Coach and after becoming a mother myself I felt pulled to create a bigger impact in the world.
We need support, we're time-poor, depleted, and disconnected from Mother Nature herself and her healing tools.  We craft these little bottles of magic to assist with emotional and spiritual support to create real impact with small windows of time.
 We genuinely pour love into every single bottle and we trust that you will feel it.
My relationship with essential oils was sparked soon after I became a mother.  After the birth of my daughter I felt untethered. We are also born through the process of giving birth, and we are faced with the task of learning to navigate our new role, and to learn who we are all over again.
I knew I was searching for something to anchor me, and that foundation came in the form of essential oils. They grounded me, brought me joy, and with them I could steer the direction of my day.  My first oils became my first blends, and over the years my knowledge, passion and craft has grown.